Pure Taboo - Sarah Vandella , Emma Hix - WHY ARE YOU DOING THIS!? (2019) - Threesome Porn 4K 2160p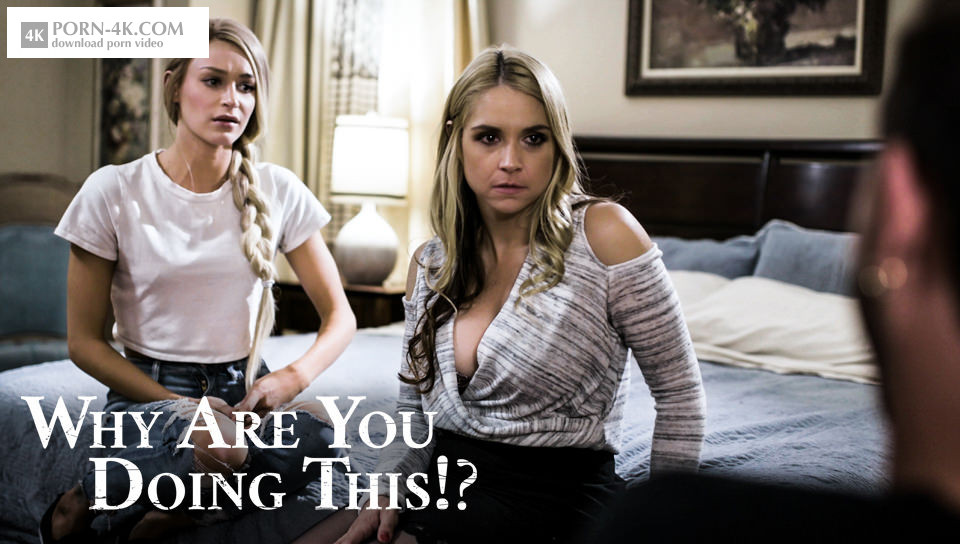 Cast:
Sarah Vandella , Emma Hix
Description
WHY ARE YOU DOING THIS!?
SADISTIC BOYFRIEND MAKES GIRLFRIEND SEDUCE HER STEPMOM UNDER THREAT OF EVICTION

Scene opens on Alison (Emma Hix), who is in her living room, pacing nervously. She is clearly worried about something. She hears a knock at the door and hurries to answer it. Her boyfriend Bradley (Lucas Frost) is there. He greets her, kissing her on the cheek as he walks into the house like he owns the place. He loudly sits down on the couch and puts his feet on the coffee table obnoxiously. So tonight's the night huh?, Bradley leers at Alison. 'I don't think I can do this,' she says worriedly, still standing. Baby, come here, he says, motioning for her to sit on the couch next to him. When she moves to sit down, he instead grabs her around the waist and pulls her onto his lap. She lets out a surprised gasp. 'Baby, you know I love you right?' he asks smoothly. She says 'yeah' quietly. And he's not making her do anything she doesn't want to do, right?, he says. It's her choice, but she knows what's going to happen if she doesn't do it, he continues, raising his eyebrow. Her eyes go wide as she stares at him, frozen. 'I don't want that to happen, but if you don't do what we agreed on, I WILL make sure it happens', Bradley says icily. But don't even worry, she's going to love it, he adds. She nods, still extremely nervous but clearly acquiescing to his demands. He looks her up and down like she's an object he's appraising. 'You look like a nice little slut,' he says, his formerly kind tone completely replaced by one that is vaguely sinister. He kisses her hard. 'Are you my little slut?' he asks her. Yeah baby, she responds. 'And you're gonna eat her fucking pussy right, aren't you?' he asks, reaching around and grabbing her ass. 'Yes baby,' she says, gasping. 'Fuck yeah you are...and I'm gonna watch you do it,' he says. Just then, they hear a key being inserted into the lock. 'And there she is now. She has no idea what we have planned for her tonight,' he says, a sleazy grin plastering his face. The door opens and Connie (Sarah Vandella) walks in. Immediately, Bradley separates himself from Alison and his sleazy grin transforms into a polite and welcoming smile. Connie smiles and says hello. 'Hi...Mom,' Alison says.

CUT TO TITLE PLATE

Cut to the dinner table, where the three have just finished eating dinner. 'That was delicious, Connie,' Bradley says. 'Oh thank you Brad,' Connie returns his grin. 'It's Bradley,' he corrects her, the agreeable and positive image he projects faltering for a moment as an edge of anger creeps into his voice. Oh, she's sorry, she forgot, Connie says, somewhat taken aback by the glimpse of what lies beneath Bradley's surface. That's ok!, Bradley says, flashing her a charming grin as he snaps back to his friendly appearance. Alison seems distracted, perhaps focused on the task that lays ahead of her. 'And how's the house? Everything good here?', Bradley asks, waving his hand around the room. Connie tells him that it's wonderful and thanks Bradley again for everything he's done. It was so tough after the accident, with her husband gone...and of course she couldn't work anymore...,Connie says sadly. Bradley nods, pretending to be sympathetic. So when Bradley came along, she was just so happy that Alison had someone, Connie continues. And then he arranged for his dad to help them with this place...Connie continues. 'You've really been a godsend,' Connie says to Bradley, smiling warmly at him. Oh it's really nothing, Bradley says with false modesty. 'It's not nothing. There's no way we'd be able to afford this place if your dad didn't own it and hadn't given us a discount on the rent,' Connie says appreciatively.

'It's no problem at all,' he says, with a faux sweet smile. 'Anything for my girl,' he adds, kissing Alison on the cheek but then leaning in close to her ear and whispering 'Do it now.' Alison looks at Bradley pleadingly. Connie begins to clear her plate, putting her napkin and cutlery on it, so is too distracted to see the exchange between Connie and Bradley. Bradley, through gritted teeth, motions her to get on with it. Alison takes a deep breath. 'Mom...there's something I wanted to talk to you about...something...private,' Alison says hesitantly. Sure, what's going on honey?, Connie asks brightly. Well..., Alison clears her throat, trailing off. Bradley, playing his part, steps in. Why don't they go to Connie's bedroom, where they can speak privately and he can wash the dishes while they talk?, Bradley suggests. That's so nice, thank you Bradley, Connie says. Connie and Alison get up and leave the room. Bradley pretends to shuffle the dishes around, watching Alison and Connie as they leave. He listens for a moment, and once he's satisfied that they're in Connie's bedroom, he leaves the kitchen. Cut to an over-the-shoulder shot of Bradley as he quietly creeps down the hall, arriving at the open door of Connie's bedroom.

We see Alison and Connie talking as he watches. They are sitting on Connie's bed together. So what is it honey?, Connie asks. Alison is frozen in nervousness. 'I've been having these...thoughts lately Mom,' Alison says, looking up at her mom. What kind of thoughts?, asks Connie. 'Thoughts about...you,' Alison says slowly. 'Thoughts about me? What does that mean exactly?' Connie asks, a little wary. 'I've just started to...look at you differently. I mean, you're so...beautiful,' Alison says. 'I just....I think I love you,' Alison says. 'I love you too honey. Even though I'm not your biological mom, you don't ever need to doubt that,' Connie says tenderly. 'No no I mean...I'm IN love with you,' Alison says. Here we go, Bradley whispers to himself, fondling his crotch in anticipation, seal the deal baby.

'Oh my god,' Connie says softly, her mouth wide in shock. 'I know I'm your stepmom Alison, but for all intents and purposes, I'm still your MOM, and there are boundaries that mothers and daughters don't cross,' Connie says patiently and firmly. 'You do understand that, don't you honey?' Connie asks. 'I know Mom, I'm not a kid. I'm 18-years-old, I get how these things work, but I just...I can't deny how I feel. I had to tell you: I want to be with you,' Alison says, putting her hand on Connie's knee. Oh no, no Connie laments, they can't do this, it's completely inappropriate. Connie softly removes Alison's hand from her leg. 'I know how lonely you've been since my dad died,' Alison says, sliding her hand under Connie's skirt between her legs. Connie removes Alison's hand from under her skirt. 'Alison, stop this right now! What's gotten into you?! Your boyfriend is right downstairs!' Connie says fiercely. 'I don't care,' Alison whispers desperately and again slips her hand between her mom's legs. Despite her misgivings, Connie is clearly thirsting for human touch and doesn't resist this time. She gasps as Alison rubs her pussy while she kisses Connie's neck. However, she seems just about to come to her senses and push Alison away when seeing this, Bradley chooses this moment to make his entrance, pretending that he just stumbled upon the scene by accident. 'Just wanted to---oh my god!,' he exclaims.

Connie snaps her eyes open, abruptly moving away from her daughter. Connie looks horrified. Alison doesn't look surprised to see Bradley since this was all part of the plan. Connie exhales loudly, smoothing out her skirt. 'Bradley this isn't---' she stammers. 'Oh please. I know exactly what this is,' he says with a smarmy tone and plops down into the chair that faces the bed. 'Carry on,' he says with a dismissive wave of his hand. 'C-carry on?! Nothing was happening, I swear to you Bradley, we were just talking and then suddenly...,' Connie says frantically. Bradley insists that he knows what he saw. Connie and Alison are going to get back to what they were doing when he came in, Bradley says. 'And I'm going to sit right here. And I'm going to watch,' Bradley says. 'Just like we talked about, right baby?' he asks Alison. Alison doesn't answer, instead looking down at her lap, deeply ashamed. Connie looks at her daughter. 'You...knew about this?! So all that talk about being in love with me,...that was all to get me to do this with you...for HIM?!' she asks Alison. Alison looks up from her lap to her mom. 'Please Mom I--,' Alison begins, but Bradley cuts her off. Fucking right she knew about it, he wanted them to put on a little show, so he told Alison that she needed to make it happen, Bradley says. 'And Alison does what I say. Because she knows exactly what the consequences will be if she doesn't,' Bradley says threateningly. 'You're disgusting, get the fuck out of my house!' Connie yells at Bradley angrily.

Well, he guesses he'll have to tell her about those consequences then, Bradley says. 'You see, that's just it. This ISN'T your house,' Bradley says calmly. Connie's brow furrows as she contemplates the implications of his question. 'That's right, it's not, it's my father's property,' Bradley continues. And his father loves him very much, so if Bradley asks him to, he'll evict Connie and Alison so fast that it'll make their fucking heads spin, Bradley says. 'So I suggest...that you both...Take. Off. Your. Fucking. Clothes,' Bradley says menacingly. There is a long silence. 'You seemed so...nice,' Connie says, almost to herself as she shakes her head in disbelief. He is nice, he just gets...bored sometimes, Bradley says absently. 'You're doing this because you're BORED?! How can you be so cruel?' Connie asks softly, horrified. Who knows really?, Bradley asks rhetorically. Maybe it's because he's rich and entitled?, or because he likes being in control?, or because his mommy left him when he was a little baby?, Bradley asks gleefully, mock crying as he mentions his mommy. Or maybe it's just because...why the fuck not? laughs Bradley sadistically. 'So you have a choice: Are you going to hit the sheets or hit the streets?' Bradley asks. 'Hit the streets or hit the sheets? That's pretty good huh? I came up with it while I was driving over here!' Bradley laughs. So what's it gonna be?, he asks, his laughter stopping abruptly. Connie looks at Bradley with pure rage and terror. Realizing that she only really has one option, she turns to Alison. She puts her hand on her daughter's knee and leans in reluctantly for a kiss. 'No, stop. I need to hear you say it, otherwise, it's no fun. Is this what you want?' Bradley asks. Yes, Connie says quietly through gritted teeth. Yes baby, Alison says numbly. 'Good choice,' Bradley says. 'Now, Connie? Fuck your fucking slut daughter please,' Bradley says evenly. Flashing Bradley a look of hatred, Connie turns to her daughter. They begin to kiss and Alison slides down between her mom's legs, slipping her panties off. Alison licks Connie's clit hungrily as her mom gasps, unable to conceal her pleasure while Bradley watches.

But they'll find out soon enough that Bradley wants to do a lot more than just watch, and Bradley ALWAYS gets what he wants... Download full Threesome Porn 4K 2160p Movie from Pure Taboo!

Screenshots of the video: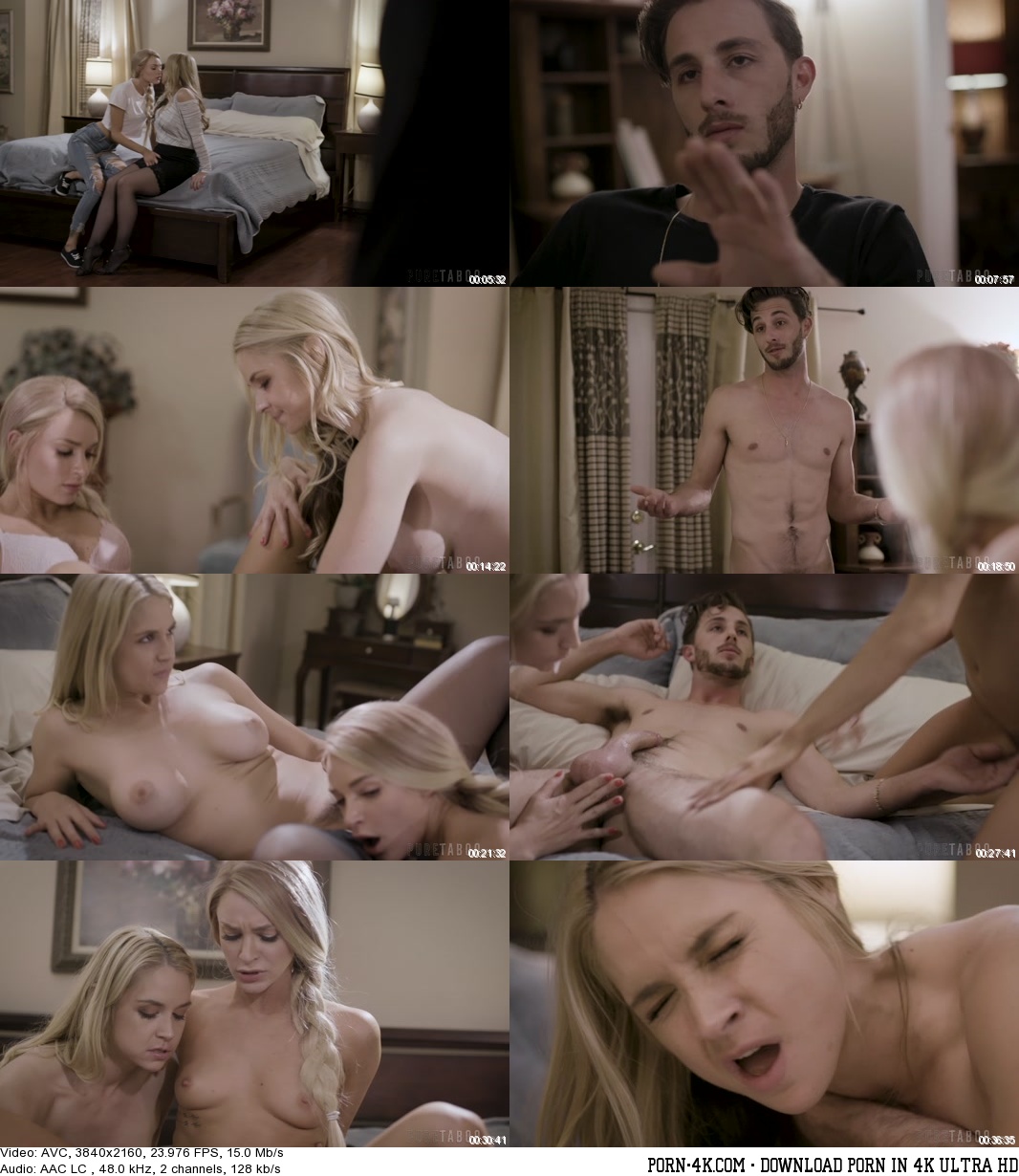 File size: 4.29 GB

Back
Watch the video
Comments